Your first name in Japanese
A web site that's by Japan lovers, for Japan lovers.
Japanophone is dedicated to the Japanese language, especially to its writing and the transcription of foreign words into Japanese.
If you're looking for the translation of your first name in Japanese, this web site is for you!
Great Dictionnay of First Names
Transcribed in Japanese

Jeu de cartes - KAZOKU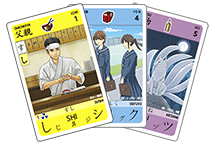 Kazoku est un jeu de cartes éducatif développé par le Japanophone.
Avec Kazoku, apprendre les kana en jouant devient facile, rapide et amusant !
Découvrez Kazoku et apprenez les kana sans vous en rendre compte !
Kazoku vous popose plusieurs types de règles afin de satisfaire tous les joueurs, des plus novices aux plus avancés.
Toutes les règles sont expliquées en détails ici: » Kazoku
Meanwhile in Japan:
Il est :
22:10
Nous sommes le :
23 April 2018
Monday (月)
Ères impériales :
Heisei Period (平成)
30th yearème année
Bonne fortune pour cette journée :
TOMOBIKI (友引)
Good in the morning, not good in the afternoon, very good in the evening
Jour férié (23 April) :
No
F.A.Q.
Search the F.A.Q. May be your question is already answered! » See all the F.A.Q.
Most viewed questions in the FAQ.
To know more about the web site